Feeling the good kind of pain for once - Aorangi Undulator 2016 Race Report
One year ago I ran the Aorangi Undulator, an incredibly technical 33km mountain race held in the Wairarapa, for the first time. That race turned out to be one of the worst running performances I've ever had - and I'll never forget it.
Fast forward to the Saturday just been, and it was a completely different story, with the race going so incredibly well that, this time, I will gladly be remembering that day for all the right reasons.
So as the Ongaonga is still tingling in my thighs, and while everything is still fresh in my mind, here is my race report from Saturday.
The event
As mentioned in the intro, the course is noted as 33km in distance. And while that is a fair distance to run at the best of times, there are some very good reasons why the tagline for the event is not being over dramatic when it states 'It's not for the weak'.
Being called the 'Undulator', the course sends you point to point over 4 fairly large distinct climbs, with the accompanying steep descents following after each of them. Nothing about the trail itself is easy. Ninety five percent of this course is what I would call 'technical' to 'difficult', and a lot of it you have to keep an eye out for where it leads, as it can be fairly indistinct in a lot of places.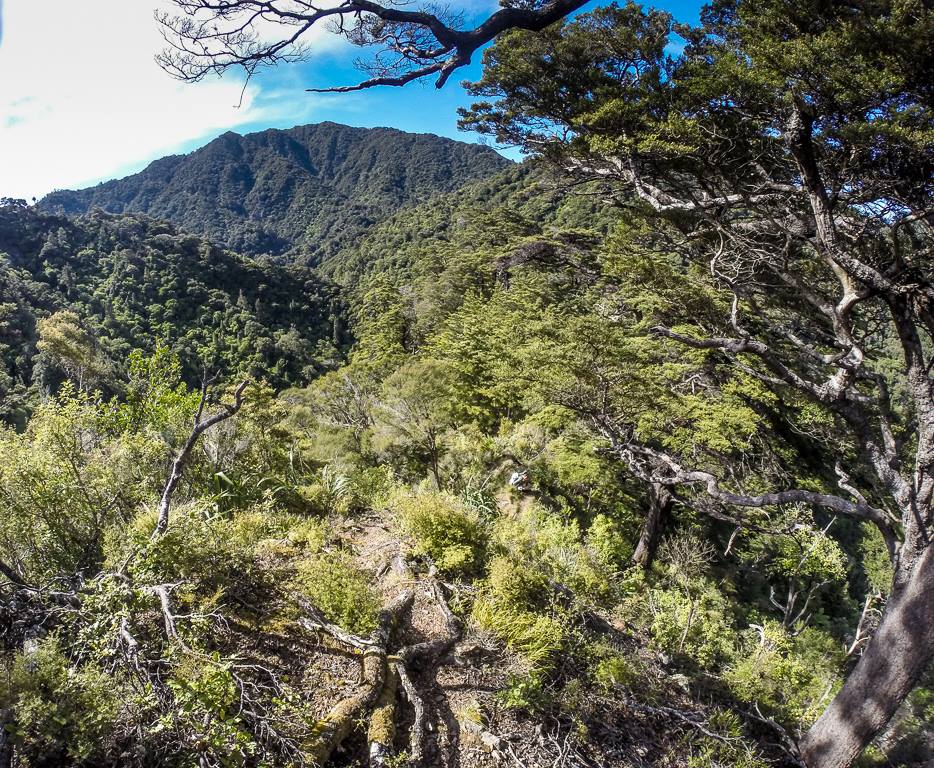 An example of part of the track - taken by Pete Marshall- Own work, CC BY-SA
The terrain you encounter is incredibly varied, as you run through riverbeds, into and out of gorges, across muddy sidles, over narrow ridges, through ongaonga, down loose scree, up root covered spurs, down root covered spurs, through a place called 'gorse alley' and finally plummet down 200m of DoC installed steps to run through another riverbed to the finish.
It's all good stuff.
Last year I'd entered it because, having tramped the route before a couple years earlier, I figured I was now fit enough to be able to conquer it with my reacquainted mountain running abilities. I had a lot of confidence going into that day, however I was not even halfway in when that confidence was knocked completely out of me and it was very apparent that it was going to be a very tough day. It turns out that the amount of training I had been doing, while a reasonable amount, was no way near enough to 'conquer' that course, and much suffering ensued.
The route spat me out, cramping all over, cursing this and that and ready to pass out, a little over six hours and twenty four minutes after starting, and while I had fun in some ways, I was fairly miserable about what had transpired.
So I was beaten that day - but I was not to be deterred. I immediately decided I would learn from the mistakes and experiences of the race and enter again a year later to turn the feeling of crushing defeat into one of joy and elation. I'm not sure I one hundred percent believed myself when I'd decided that - but like a cold beer on a hot day, you have to give it a crack don't you.
The Race
I woke up in my tent earlier than I'd hoped to, thanks to a magnificent dawn chorus by the wonderful amount of birdlife around the Putangirua Pinnacles where I'd camped the night. One of the main reasons the race is run is to support the Aorangi Restoration Trust, which does superb work in erradicating pests in the park and restoring the native flora and fauna to the area (even bats!). The birdsong of that morning was a testament to the hard work the trust does, and I'm more than happy that my race fee goes towards such an endeavour.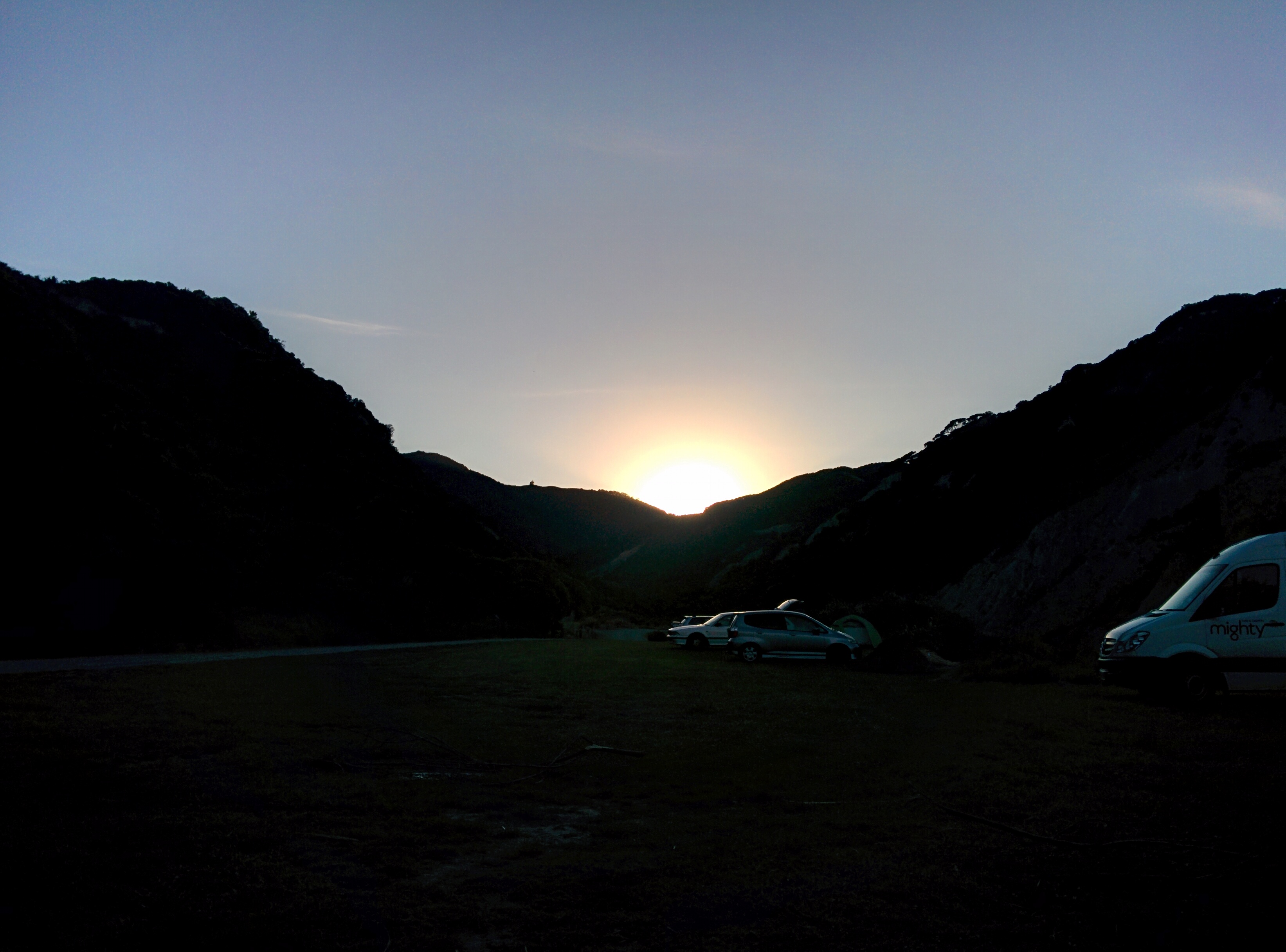 Dawn at Putangirua Pinnacles campground - taken by Andrew Thompson - Own work, CC BY-SA
The sun rose over the hills while I was just finishing my porridge and coffee. There was not a cloud in the sky and I could tell today was going to be a hot one. I was starting to think perhaps I should have asked to start at 7am like I'd heard Danny Garrett and Chris Swallow were doing, but it was a bit late now, so I headed out to the road to stick my thumb out to hitch my way to the 9am start I was placed in.
It wasn't long before a group of very typical Wairarapa fishermen picked me up on their way to Ngawi. It was in an even shorter amount of time that they declared me mad as I explained what I was up to that morning. I guess you could not find something more opposite to a relaxing morning out fishing than a 33k mountain race. But they were good buggers, and we had some laughs about crappy boat engines and fishing stories, until we got to Ngawi where they were stopping, so I started walking down the road to the Mangatoetoe River mouth which was about 3 k's away.
As luck would have it, I didn't have to walk the whole way, as I was soon picked up by an 8am starter, Martin Durney, and his partner. There was no discussion about being insane this time, just excitement about what the day had in store for us. It was good to get to the start early, to just relax and watch the 8am wave start and catch up with the organiser, Chris Martin (Martini) and some of the other helpers I knew.
As we neared closer to the 9am wave start, aka the fast guys wave (minus Chris and Danny), a group of us all introduced ourselves to each other and started chatting about the course and what to look out for. It was a neat moment of camaraderie as we shared what info we could, and I explained a couple of helpful tips that might come in handy to the guys who hadn't run it before.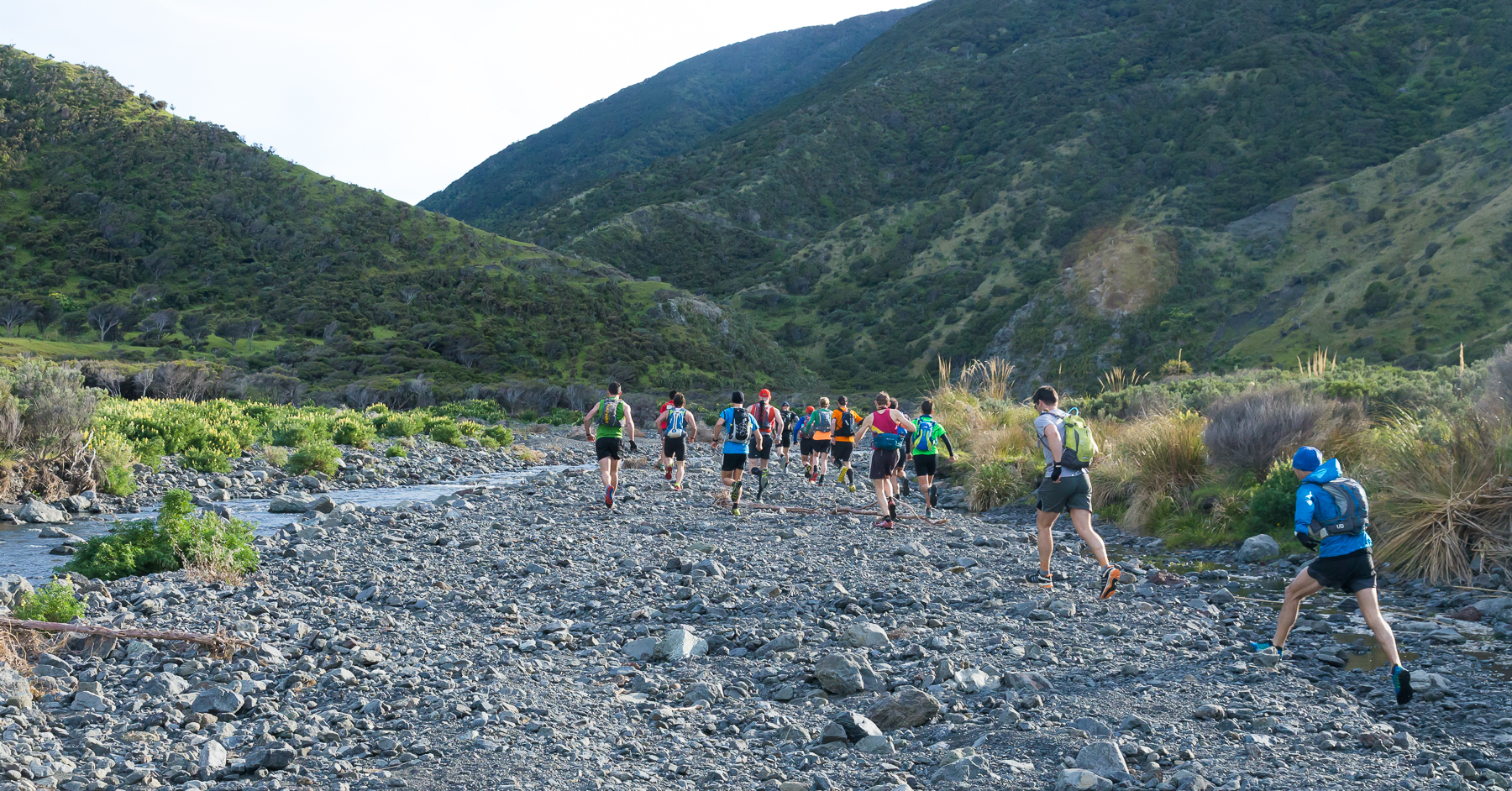 Photo from Last years start - taken by Jan Ducnuigeen - Own work, CC BY-SA
And before long, after a rousing speech by Martini, we were off up the river.
I soon found myself in third, sitting alongside someone I'd just met at the start, Karl Yager, with Sam Hansby in front of me, and Angus Watson out on front of him. As we made our way up the river, crossing here and there, it looked like the two in front were really pushing, so I was conscious to check my effort and felt I should dial back a tiny bit. Very soon we came to a bit where there was a hidden 4WD track on the side of the riverbank, which last year I missed, but thanks to checking out Tim Sutton's strava course from last year and confirming with Martini, I knew to look for this year.
I told Karl to follow me, and it helped us gain a lot of time on the guys in front who were dipping in and out of the river and having to navigate over the rocky edges.
Very soon we caught up to Sam and Angus, who weren't sure where the track went when we got to Mangatoetoe hut. So now a pack of 4 had formed, with Angus and Sam occasionally getting away, but then Karl and I would reel them in again as they'd make slight wrong turns and have to double back. This part of the course is very unforgiving if you're out in front and not sure of the way, as we were all about to find out.
About 4k into the race, I was sitting behind Angus, and we both saw an orange DoC marker, and what 'seemed' like a trail heading left. Unfortunately, I don't think either of us looked right, and we went past the track which dipped down into the stream. Sam and Karl followed and when we hit an area that looked uncertain, groupthink sunk in and we didn't make the right decision about where to go, which should have been 'backwards'. We hared around for about 4-5 minutes looking for the track, and thankfully found it again. Fairly annoyed, I decided that I might just sit back, and run on my own, to get myself back into a comfortable headspace and concentrate on my own navigation.
This worked a treat, once I was on my own, I started to get into a state of flow and was really enjoying the situation as I headed up the first climb. I could hear the other guys talking up the hill not too far in front, so I was still in touch and feeling fresh - it felt like the plan was coming together.
After the first climb, I got the first sense that today was going to be my day as I started descending down some near vertical downhill sections rather effortlessly and with great confidence - some cycling gloves I'd bought for this very purpose were doing their trick! Not long after that I had some of that confidence wiped away by a section that I think is the hardest of the course, a gorge that runs down to Kawakawa hut.
Again there is really no track here, just the odd bit on the side here and there, but for the most part you are rock hopping or wading through the river as you pick your way down to the valley. It is very slow going, as you cannot ever gather enough momentum to run, and I felt like I was losing so much time through this section as my effort to move fast felt so stunted.
I also ended up both bashing my ankle bone and getting two thigh-fuls of ongaonga before I got out of the gorge, so by the time I made it out to the track that lead to the hut, I was well over it and I had the disturbing thought that perhaps today was going to be just as horrible as last year.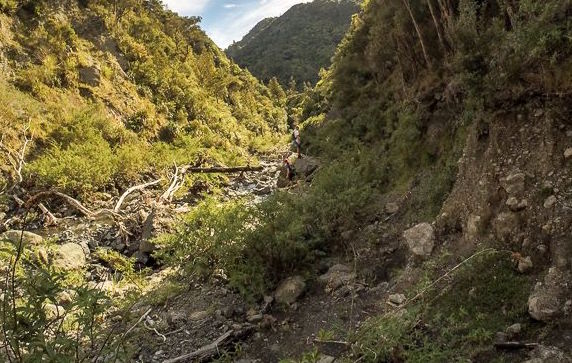 Photo down the dreaded gorge - taken by Pete Marshall - Own work, CC BY-SA
As I got to the hut though, my mood became more positive. It was great to see two mountain runners I respect a lot marshalling at Kawakawa, Tim Sutton and Dave Allen, and after first swearing abuse about the gorge, I asked them how far I was behind the others. Turned out to be only 2-3 minutes, which was nothing at this point, so I grabbed some jet planes and got my run on again.
Halfway up the next undulation I ran into Karl, who looked to have stopped to sort out his backpack. He explained that the other two had got away from him, so he sat in behind me and we ran together chatting away about various mutual interests and having a general good time out in the bush. It was fun to run the next hour with Karl, and I think we both got benefit from making solid progress, but at a pace where we could keep conversation. I told Karl that my plan was to hold off and then pull the trigger once we got to Parakai hut, and I'm not sure he believed me. I can talk a lot of shit, especially when a little tired, but the way I was feeling at this point, I actually realised I might be able to follow through with it.
After refilling water at the Parakai stream and passing the marshall at the hut, Karl and I shuffled our way up the second to last climb. This one is a real doozy, about 550m of very steep trail, lots of it you need to clamber with your hands pulling you up. Now it was time to make my move.
I said to Karl 'I'm gonna give it a shove, you should stay with me', he just said 'Go for it', and so I turned the effort to 11 and soon he was starting to drop behind me. I put real effort into power hiking hard, but efficiently. If I felt I was able to run up the hill, I rolled into it. I was feeling pretty tired with the speed I was doing, but I'd heard so often that there is no point making a move if you aren't going to commit, so told myself to suck it up and kept up the effort.
About halfway up the hill, I ended up passing both Sam and Angus. They both looked like they'd hit the wall hard, so I offered them as much encouragement as I could and kept on moving with the same purpose.
It was then I realised something that took a little while to sink in, as it was a situation incredibly new to me…..
I was leading!
And not only that, I was aware I was well inside the time splits I was wanting to hit for my goal time, but without feeling like I was about to die. Everything was coming up Milhouse and it was at this point I'm sure I got a massive shot of adrenaline, because I was able to really start attacking the hill closer to the top and it felt like I flew up the last 100m of that climb.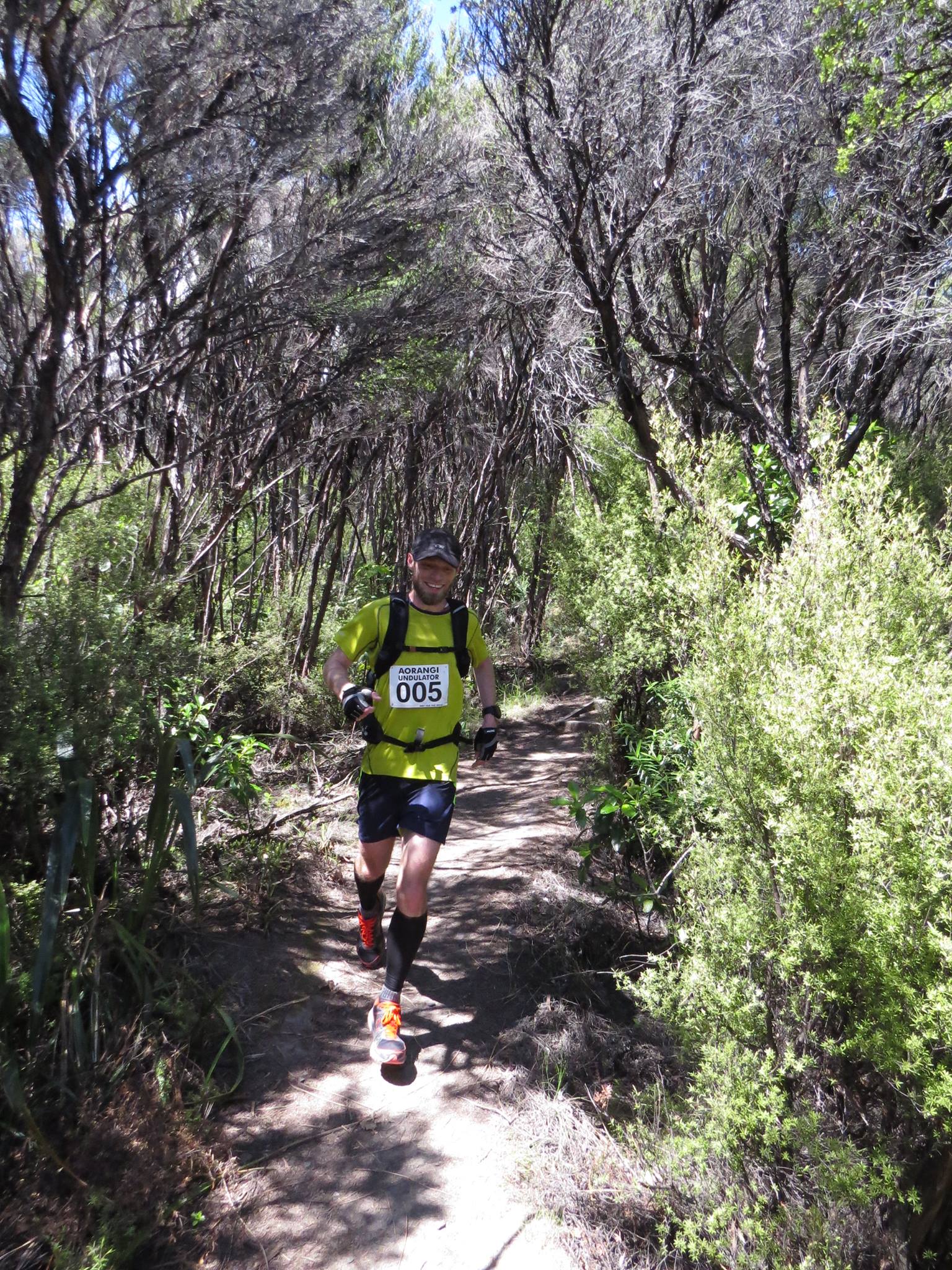 Photo of me heading down to the finish by Chris Crowley - Own work, CC BY-SA
A poignant moment I remember was just short of cresting the top, at 2 hours 50 mins which was well ahead of my time goal of 3 hours. I saw some windfall that had fallen on the track and recalled that same tree from last year when I could barely lift my leg over it and had tripped, sending cramp all through both legs which lead me to sitting down for about 5 minutes. This time no such namby pamby business occurred. I jumped over it in a moment of catharsis that had me whooping out over the valley I was about to descend into, having broken the back of the route.
I bombed down the hill carefully but with a focused strength, and soon hit the Washpool stream. As I climbed out of the river to the clearing where some fine marshals, including good running mate Alex, were waiting, an unfortunate sense of history repeating itself set in, as I felt the signs of cramp setting into my inner thighs. I took a moment to have a quick chat while I tipped tailwind powder into my freshly filled bottles, which was good to help me just take a few breaths to tell myself that, yes the climb out was going to be painful, but I could definitely do it.
I'd caught up to Martin, the runner who'd picked me up earlier, at the river and we started the climb together. After a bit of whinging and moaning to him, I was able to slowly adapt my body to the cramping, and was soon pushing through it to moving up the hill at a steady pace.
I felt I was going quite a lot slower up this hill, and I was feeling a little rough, well - quite rough, but I just had to keep telling myself that the guys behind me were more than likely feeling just as rough, so long as I kept moving I'd be able to keep my position and hit the time goal of 5 hours.
Soon enough, thank all that is good and great with the world, the last major climb was behind me, and I passed the last marshall, Ash, who told me 7ks to the end. I could see the ocean from where I was, and it looked a long way away! But to quote Ronnie Coleman, ain't nothing to it but to do it, so I just sucked down my last gel (double caffeine!) and got into as solid a rhythm as I could.
I was soon knocking off landmarks I knew faster and faster, and I was finally into 'gorse alley', a section where the tramping track gives way to a 4WD track which, at least last year, is filled with gorse. With great relief this year it had been cleared, and as it was all a super runnable fast downhill from here, I told my quads I was sorry and set about hitting the downhill as fast as possible.
When I got to the stairs, I felt incredibly good, and I glanced at my watch, it looked like I was going to easily beat 5 hours, and if I tried hard enough, I may even beat 4 hours 45! So I started taking the stairs two at a time, and sometimes three, as I was feeling finish line fever and was trying to use gravity as much as possible to get me there fast. I was feeling pain, but it was a very good kind of pain.
I got to the river bed, and ran up the track to the finish line where the smell of sausages gave that extra boost to the final flourish across the line. I was exhausted, but more importantly, elated.
I shook Martini's hand and assessed the situation.
While I had won the wave, Danny and Chris had smashed the record time earlier that day, so I had come third, in a time of 4 hours 47, and the day had exceeded all expectations.
Absolutely stoked.
After the race, I soaked it all in. In someways the race itself is just a means to an end, where the end is the moments after the race where you're feeling shagged, but stoked with your effort, no matter the result, and get to partake in the after race revelry.
It was a beautiful day with a beer in one hand, and a sausage in the other, I congratulated all those earlier starters that had finished, and as they came in, those that finished afterwards. Great yarns with great friends, and shared war stories with other competitors after a cracking day out in the hills, what could be better?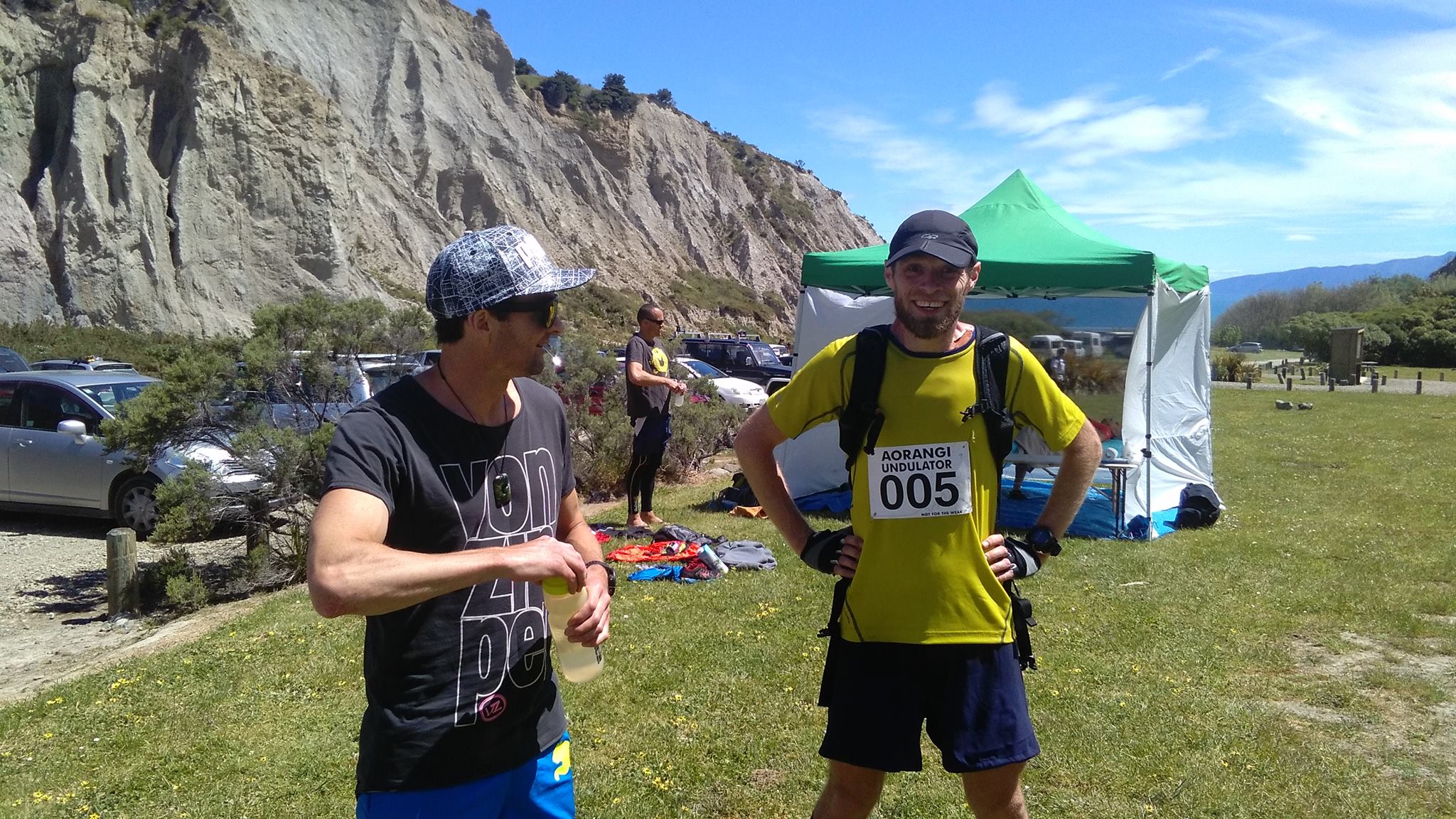 Photo of Tim Sutton and Myself at the finish - taken by Chris Martin - Own work, CC BY-SA
Thanks to Chris Martin and the rest of the amazing organisers, volunteers and marshals for putting on an amazing race. Thanks also to my coach Chan for the great advice leading up to this race.
Length: 33km
Climb: 2250m
Time: 4:47:00
Place: 3rd Overall, 1st in wave
Strava Course Tracking