I love it when a plan comes together!
I recall back to the middle of last year, when training was going quite well, but the weather was poor and it was darker more than it was light. I was hovering over my computer with the Tarawera Ultra Marathon entry form open in front of me. With the warmer months so far away, I just kept thinking about training for and running races in the summer, and the TUM was a race I'd heard so much about, that I decided I had to get my act together to enter.
I was only slightly contemplating entering an ultra distance, but knew that in reality it was a no-go with other races I was doing around that time and type of training I was due to do, so I started to study the details on the relay.
I messaged an ex-Wellington based running buddy of mine, Alastair who currently lives in Auckland, seeing if he'd be interested in doing the relay with me as a duo. At that point, as any runner would, he also contemplated doing an ultra distance, running through the mental checklist of pros and cons of doing something as mental as a 100km race.
Thankfully I was quite convincing that it was a bad idea, and sanity prevailed, so Al decided to join me on the relay - Team Blazin' Pace was entered and the plan was in motion.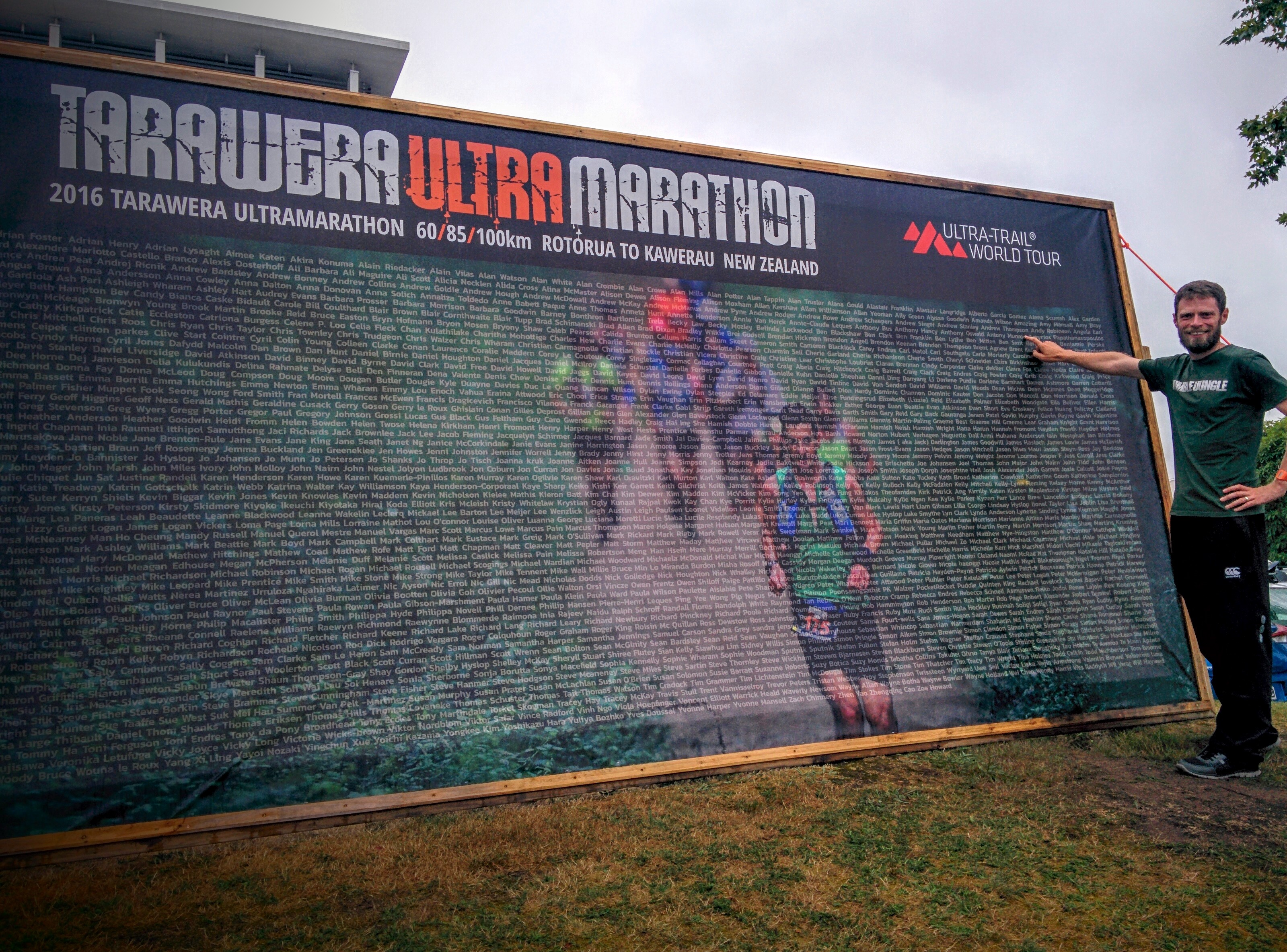 There's me!
Fast forward through months of training and injuries for both me and Alastair, and we were both up at 4am on Waitangi Day to prepare for the race start in a couple of hours. We'd planned to do the 85km distance, which is split into 4 possible legs for the relays, as a series of alternative legs. I was to run Leg 1 to Lake Tikitapu, Al was then to run Leg 2 to Okataina, I would then take over and run Leg 3 to Tarawera Falls, with Al finishing off the run in Leg 4 to Kawerau. Over all, I would run about 40km with 2000m climb, where Al would cover 45km with 700m climb.
For some reason, in all the time leading up to that Saturday morning, the event seemed like a simple task. Yet while I was waiting for my coffee and breakfast to do it's thing, it dawned on me that I was about to run the longest distance I had ever run, not to mention I was going to attempt this only a week after putting a serious effort into a 3 hour race. In a wondrous moment of serendipity, these thoughts freaked me out enough to help the coffee do it's magic, which helped me forget my doubt with focus taking its place.
Excitedly waiting by the start early on Waitangi Day
At the start line, the focus intensified. I surrounded by an amazingly lit redwood and ponga forest, and I could sense an amazing vibe in the air emanating from the throng of competitors around me. Toeing the line were runners that covered the full spectrum, from less than likely weekend warriors, all the way to international record holders and professionals. Common to all, however, was the excitement of the day ahead - and boy did it get me fizzing.
After a rousing haka, the countdown began, and we were off!
I was told by people who had done the relay previously, that I needed to make sure I wasn't stuck in among the crowds at the start, particularly as a relay runner where I'd be wanting to move a lot faster than most. I was very happy with where I slotted myself in, probably about 20 runners back from the leader, where the pace was good and the tracks were still quite intact. The weather leading up to the race and on the day had been pretty wet, and there was a lot of talk about how much harder it would be underfoot. I think that being in the front of the pack really helped mitigate those issues, as while some areas of single track leading down to Blue Lake were a bit sloppy, all in all it was a very sturdy course.
This first 16.5km leg started off in the Redwoods Whakarewarewa Forest, and was for the most part a gentle climb through dark single track. Soon we were past the water tower and into some open and flat forest roads, and I noticed that my legs felt very, very tired. I had expected this to happen, being a hangover from the racing last weekend, so I just had to try ignore it and power through. With the first leg being relatively short, and with the pace of the runners around me so hot, I kept my head down and sure enough I was rounding the gorgeous Blue Lake to hand off to Alastair in no time.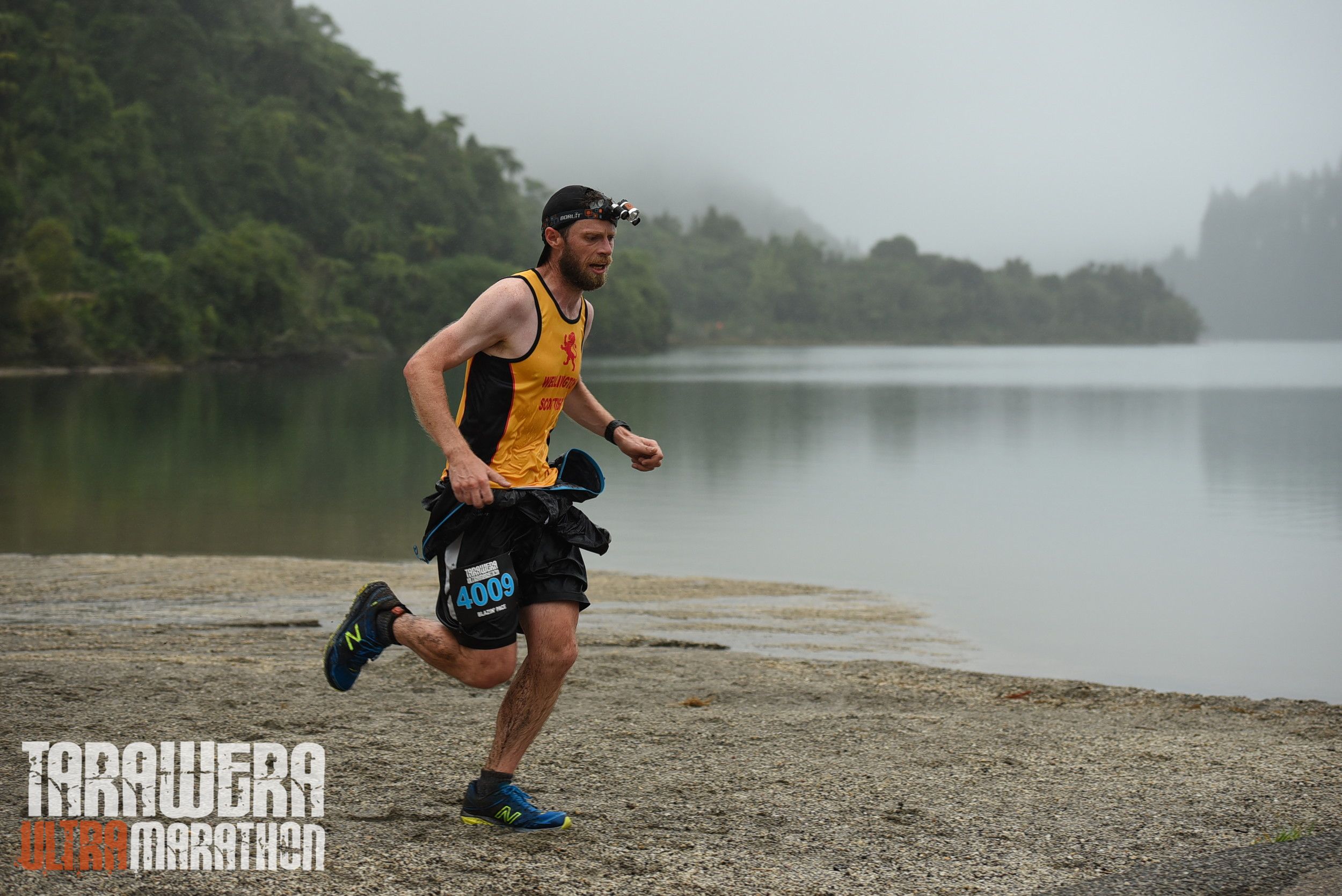 Feeling the pace as I round the back end of Tikitapu, about 14km in. photos4sale
As soon as Al had set off, I had to get my bearings. I was quite shagged, and I knew that I had to hustle to get to Okataina before Alastair did. So I did a small warm down, stretched, fueled up as best I could, got changed out of my wet gear, put on some Jamie XX (very loud) and high-tailed it out of there.
Unfortunately due to the size of the carpark and access road, only shuttles were allowed to the Okataina change over area from Rotoiti, so this didn't help my small amount of recovery time as I got quite stressed out when I turned up and saw a shuttle just leaving. The volunteer told me it would be at least 30 minutes until the next one left - so add to that the 25 minute travel time, and I was likely to be cutting it way too close to meet Al running in. Not ideal.
Thankfully the next shuttle was actually only a few minutes away, and it filled up very fast and was off quick smart towards Okataina. During the shuttle ride, the effects of fatigue started to kick in. I was quite sleepy, and I was also starting to worry that I'd not rehydrated and refueled enough. I knew this next leg was going to hurt.
Once in Okataina, I got to see the 100km race leaders come through the aid station, and not long after, was the other half to Team Blazin' Pace - who had done a cracking run and picked up a few places over his leg. Al came flying in, and once I had the timing chip swapped to my leg, I had to forget my worries once again, and shift my focus to the track in front of me.
I felt solid for a around 8km, really enjoying myself while I kept on a decent pace and picked up a few of the 100km/60km runners that had slowed a little. The track was gorgeous, travelling alongside lake Okataina in some amazing native forest, towards a slight saddle that took me down to Humphrey's Bay, where the first of 2 aid stations on this leg was to be found. When I got to Humphrey's though, I was shot. Perhaps it was just seeing an aid station, or I was running on empty, but after taking in water and fuel, I was dreading setting off for the last 15 odd kilometers.
About 2km after Humphrey's, while the course was on a climb, I let the demons get to me, and I told myself I'd allow myself to walk until 3km, but after that, then I'd have to run. While I'm not proud of that moment, it actually worked. I felt the a massive second wind sooner than I thought, and I was able to plod along at a decent pace until the Outlet, the last aid station for me.
Now, aid stations were a new thing to me this race. I've been in races before when I've been tired and come across marshals and decided to have a small rest and a chat to get some motivation to keep going, but aid stations stocked with amazing food and drink choices, not to mention a dozen or so very helpful people, they become like black holes, sucking you in, tempting you to rest. I sat down, drunk Coke for the first time in a race, and took on some gels. Thankfully, a very motivating volunteer had a chat to me, and sent me on my way, all gee'd up and ready to finish the last 5kms. He told me the next bit of trail is some of the best of the course, so I was excited to see that, as well as get this day over with.
And then, it happened. The dreaded C-Word. Much like the Aorangi Undulator 3 months earlier, as soon as I felt a little bit of cramp, it wasn't long until both my legs, top to bottom, seized up completely. I knew there was nothing much I could do, and I was suddenly in a forced walk/jog pattern which meant I got passed by a decent amount of people in the last section. One benefit to moving this slow on this part of the trail however, was that I got to see the breathtaking Tarawera Falls more than I would have if I was moving freely. They are quite something and helped take my mind off the pain somewhat.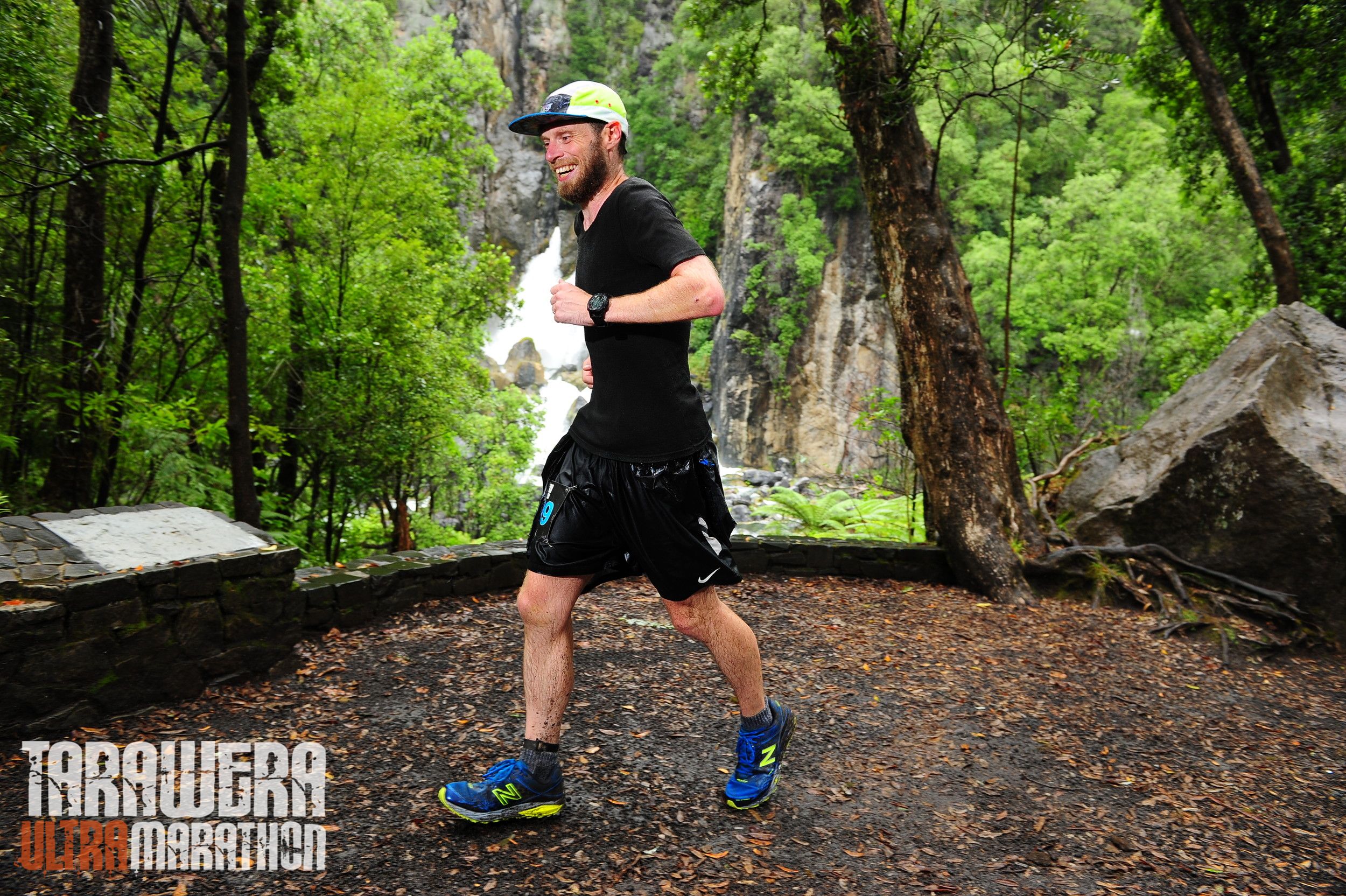 Running with stiff legs in front of Tarawera Falls - photos4sale
After covering about 5km in about 35 minutes with running that would not be out of place at the Ministry of Silly Walks, I arrived at the falls carpark, to an awaiting Alastair. I told him sorry about the wait, wished him good luck, said I'd see him at the finish and promptly went back to the table of food and filled myself with Nutella and peanut butter hot cross buns followed by a dip in the Tarawera River. Boy was I relieved to be done!
After crashing out in the pine needles for a while, I drove to Kawerau and strolled out a few hundred metres in front of the the finish to wait for Al. While I was waiting, I saw the Jonas Buud from Sweden come in to the finish to win the 100km (was actually 102km) in a scorching 8:00:53. Not too far after that, David Byrne, an Australian take 2nd place in 8:22:39. As I cheered David on, he asked how far it was to the finish, this amused me considering it was just around the corner and I thought to myself how many times he'd asked himself that over the last 8 hours.
Only minutes later, I spied Al coming along the track. I was pumped! I joined him as we jogged towards the end. Oddly enough, in the same breath that he was complaining about a blown out knee, he asked if we wanted to race into the finish! We had a ton of fun jockeying for position into the finish, but my 2 hours of rest and intact knees meant I had a huge advantage on him, so I held back a little to make sure we crossed the line together.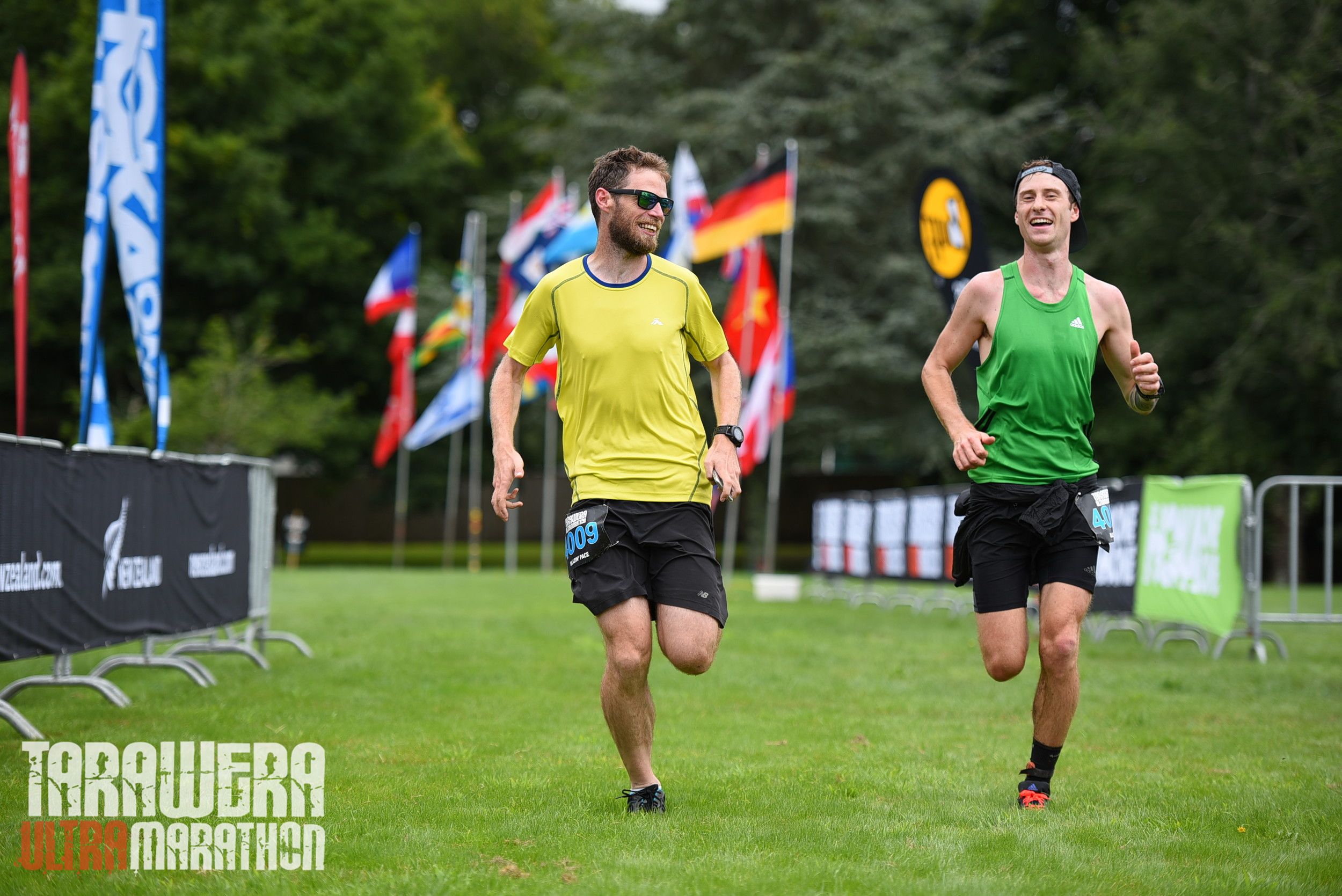 Enjoying a final blat with Al into the finish photos4sale
Seconds after crossing the line, we were embraced by Paul Charteris, the fantastic race organiser, who promptly told us we were the first 2-person team to arrive, in 8:28:00, how about that! We got to say a few words on the PA to the supporters around the place and then sit down and share our war stories over a beer that has never tasted so good. I also got to see third place Ryan Sandes from South Africa come in to the finish in 8:30:40, and once he was recovered enough, I had a wee chat with him. Ryan is one of my ultra running heroes, so I was stoked to be able to talk a little about some NZ trails with him.
And with that the Tarawera was done. It was a race that, going into it, had a lot of unknowns, but I had spent a lot of time planning it out, so I knew that it would come off okay with some effort. And ultimately it did, first 2-person team is nothing to be sneezed and, and I also have a good gauge on what is required when I enter an ultra distance solo next year. Whether its the 60k, 85k or 100k, is yet to be decided, but there is no way I'm missing another hit out on those trails.
Race Stats - Tarawera Ultra Marathon
2 PERSON RELAY 6TH FEBRUARY 2016
Length: 39.8km - 16.5km Leg 1 and 23.3km Leg 3
Climb: 2000m - 800m Leg 1 and 1200m Leg 3
Time: 3:10:08 - 01:27:29 Leg 1 and 02:42:39 Leg 3
Place: 1st 2 Person Team, 9th Relay team.
Photos: by myself, Alastair and photos4sale