Wuu. Wooooo. Weoowwww. It's almost upon us, the inaugural Wellington Urban Ultra...2000, in 2016.
I wrote a post about why I decided to enter this run here, but this post is going to be more to the point about what to expect on the 60km course, as it's probably the one ultra marathon course I'd consider myself to be an expert at, having run all these trails at least once, with some hundreds of times.
First off, lets dissect the name, WUU-2K. As mentioned above, the first three letters form the acronym for Wellington Urban Ultra, which tells us that we're going to be running an ultra marathon, in Wellington, around it's urban environment. That last part is a bit of a half-truth however, because while you do snake around and between a bunch of Wellingtons suburbs, finishing right above the city, you are hardly touching pavement throughout the race and you aren't running through city streets. This certainly ain't no round the bays.
The 2K part of the name is meant to represent the two thousand meters of elevation you'll have to overcome to complete the course, which is pretty chunky all things considered. BUT, the organisers themselves have stated that for the 60km course, this is well under the actual elevation, and will be closer to 3K than 2K (more on that later), but hey, I'm not complaining, I entered this race because of the hills, not the name, so that works out just dandy.
Right, enough etymology, lets get down and dirty and talk about the course itself.
The Course
Download the GPX - Right Click - Save File As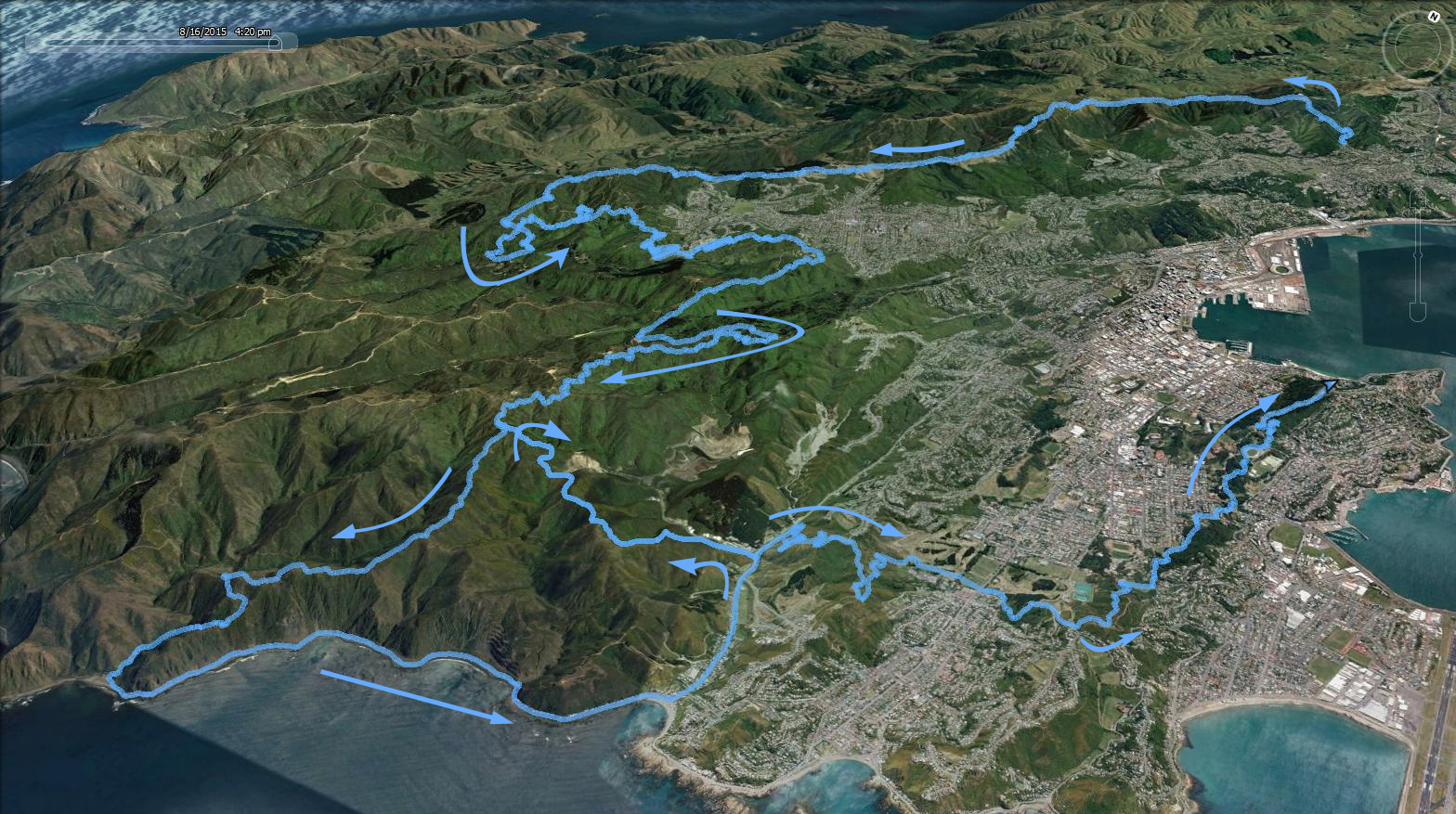 In short, the course starts at Khandallah Park and climbs up to the Skyline track via Mt Kaukau, which you follow until Makara Peak, where you can enjoy a jaunt through the MTB park, followed by a climb up to Wrights Hill. You then pop around the Zealandia sanctuary to the wind turbine, and double back to the south coast, sidling just under Hawkins Hill in the process. After following the coast to Owhiro Bay, you head north, and then up and down the tip track. The home stretch sees you heading up and over Tawatawa reserve and then up to Mt Albert, where you zig-zag your way north until the finish at the lookout platform on top of Mt Victoria.
Whew, just describing all those epic tracks in one course has me all giddy. An event like this needs the course preview it deserves, so we need to go deeper. As the course is broken up by fairly regular aid stations at the end of fairly distinct sections, approximately every 10km, it makes sense to break down the preview into similar sections.
Start to Makara Road.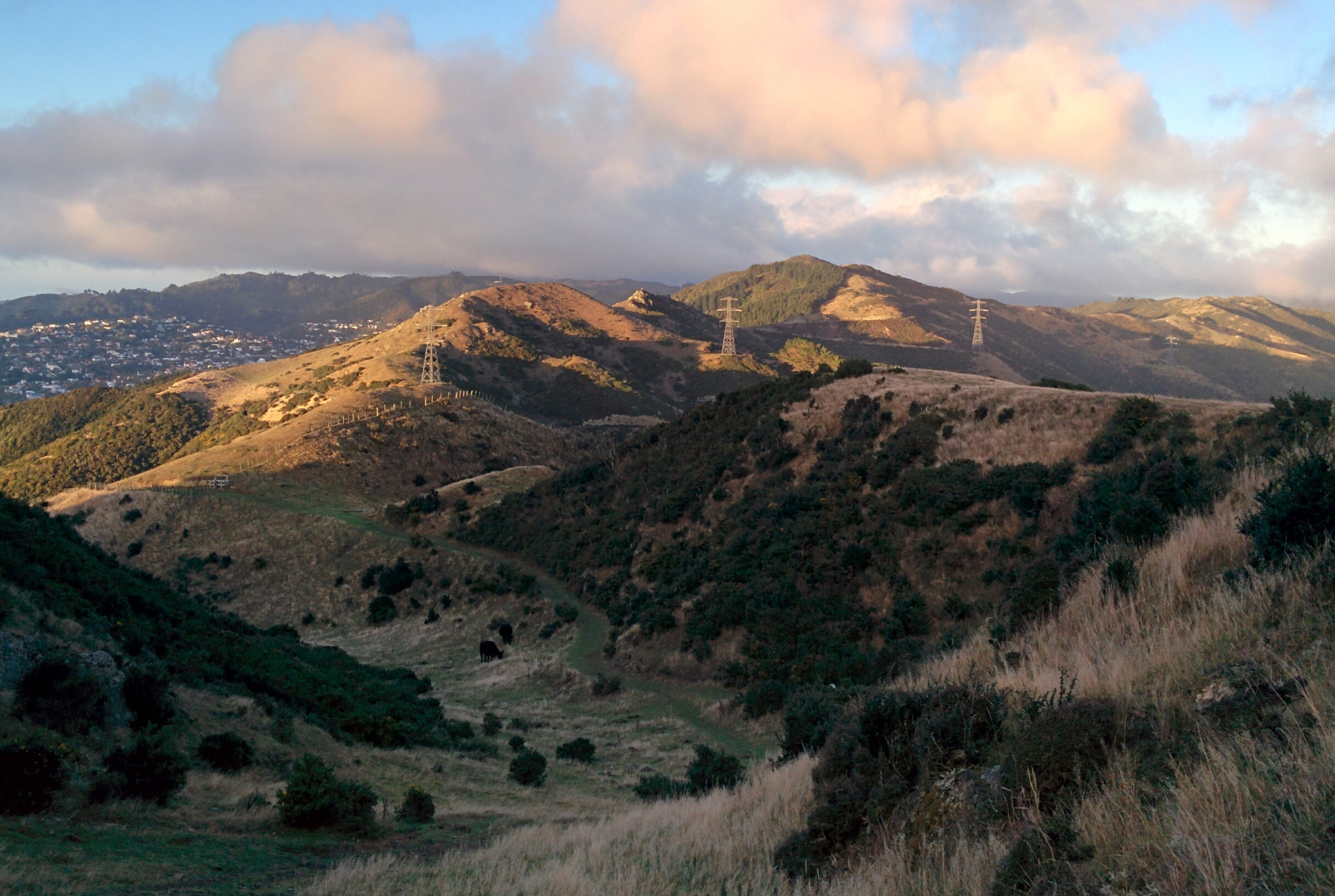 Skyline By Andrew Thompson - Own work, CC BY-SA 3.0
The start is going to be an interesting one. Right away you're faced with a fairly steep 200+ meter climb on steps and single track within some native bush. Some keen people will blast up here, most will be more circumspect. Personally I think the race starts at the Mt Kaukau lookout at the top of the climb, so I'll be taking my time to settle in, soak it up and enjoy the fact I'm racing an ultra marathon on my home turf.
After reaching the top and getting hopefully the first glimpse of the finish line across the harbour, you drop down onto the Skyline track, a mixture of old farm track and some MTB single track, that will be covered by it's fair share of both cow poo and the cows that do the poo. Dodging both of these is a good idea. The Skyline track is all very runnable and is an enjoyable traverse across undulating farmland. If it's a screaming northerly or bitter southerly, you'll be in luck, because you'll certainly be getting your moneys worth as you're quite exposed along the whole track. Regardless of the weather, hopefully the clouds are high enough so everyone gets to enjoy the magnificent views of Wellington harbour to the east, and the wind farms and Marlborough Sounds to the west.
Once you start running on single track among some tree's again, you know you're very close to the first aid station at Makara Road.
Makara Road to Makara Carpark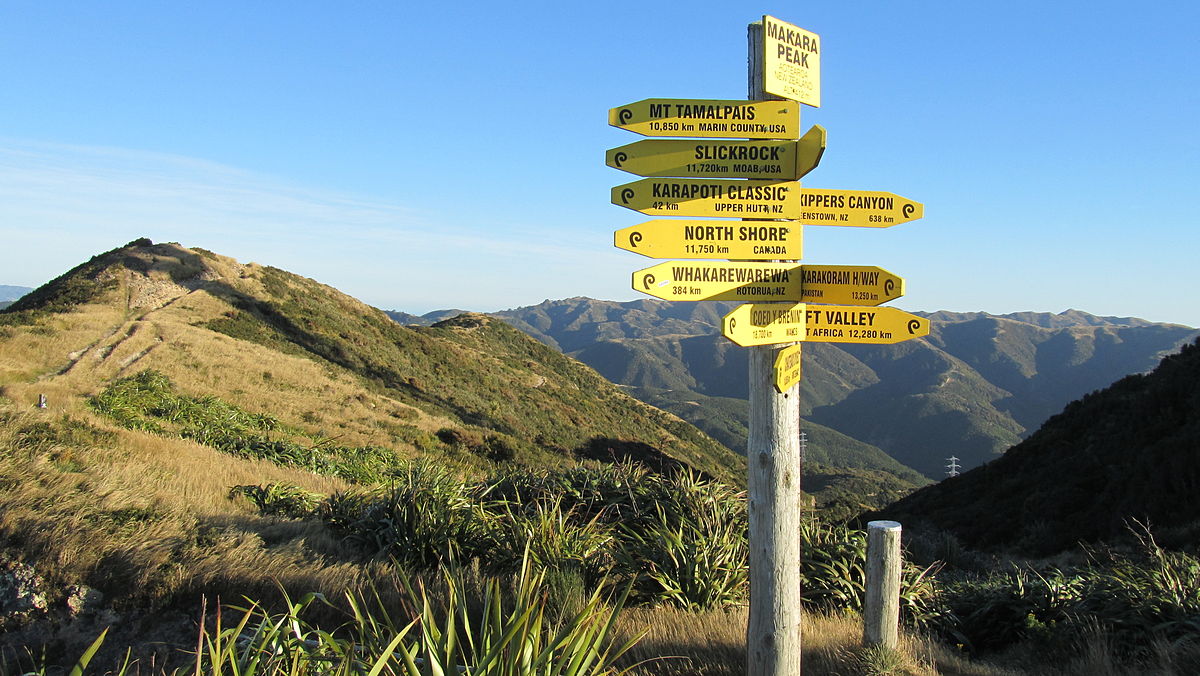 Makara MTB Peak By Yagerkarl - Own work, CC BY-SA 3.0
Another decent climb to get us going! This time it's more tame than the Kaukau one, but by now you'll be starting to realise that the 2K part of the event name is all a clever ruse. During this ascent you'll cruise up a bunch of switchbacks on Varley's track, finally reaching the directional sign on top of the peak via the 4WD access road.
Any 42km course runners with you at this point will display their smug smiles, as they get to split off east and enjoy a 100% downhill until the next aid station, whereas the 60km masochists need to continue south and do a loop within the MTB park. Tracks like Leaping Lizard and Possum Bait Line await, and they're well maintained single track within a mixture of scrub and native bush. You'll find yourself undulating down and up a series of fairly steep grades throughout this section, so keeping your effort steady will be important as you're still only 1/3 of the way through the event.
After the final climb out from Nikau Valley via Missing Link, you descend to the car park aid station via Lazy Fern, a low gradient downhill with a bunch of switch backs and banked corners. I'd recommend doing the airplane manoeuvre whilst undergoing cornering for maximum enjoyment of this part of the course, which should get you into a good mood to meet the lovely aid station volunteers as well as re-joining the race with the 42km course runners.
Makara Carpark to Brooklyn Wind Turbine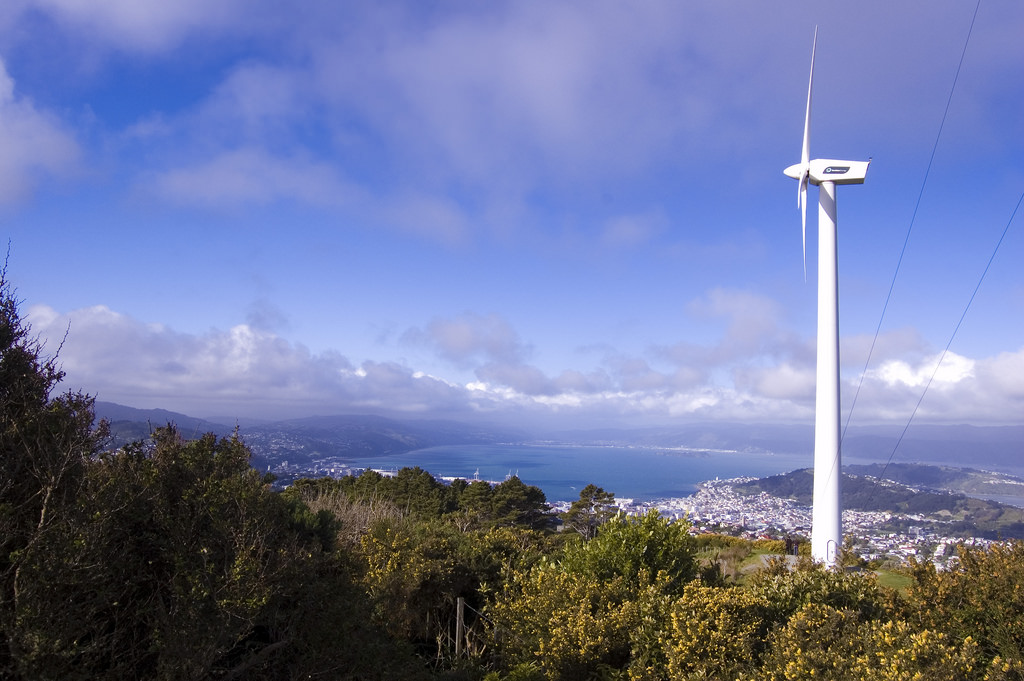 Wind Turbine By Andy McDowall- Own work, CC BY-SA 3.0
With another aid station down, another significant rise in elevation faces you, this time in the form of Wrights Hill. The track to get you up there is aptly named Salvation, as it will deliver you from the evil that is a small road running section to some very runnable uphill single track. After the climb is done, you cross over a road and sidle along the left of the Wrights Hill lookout (missing out on a great view unfortunately), until you reach the fenceline of the Zealandia ecosancturary, which you will follow anti-clockwise.
This track is essentially a 4WD access road, and undulates with a couple of small pinches while you head towards the Brooklyn Wind Turbine for the next aid station. As you round the sanctuary, you should be treated to a cacophony of native bird song, which should get you in a good mood to enjoy a fantastic view of the city from the turbine.
This section will be a bit of 'make or break' for a lot of people. The slopes here are generally quite fast and easy to run, but you do actually make some fairly large elevation gains. The danger here is getting lulled into a false sense of security trying to gain some time and taking the uphills too fast and knackering yourself before reaching the halfway point. If your strategy is 'completion' rather than 'competing', then taking things down a notch is a good idea here.
Brooklyn Wind Turbine to Owhiro Bay
Looking to Owhiro Bay By Andrew Thompson - Own work, CC BY-SA 3.0
From the halfway point, you will be sent south, and for once, not up a daunting hill. You drop onto some single track called Car Parts Extension which joins up to Barking Emu as you meander slowly uphill towards the golf ball looking radar dome on top of Hawkins Hill. This is an excellent track to give your legs a wee bit of a rest and should give you glorious views of Wellingtons southern suburbs and the south coast.
After reaching the top end of the Tip Track, once again you can wave goodbye to the 42km runners, as they break down to the right while you'll continue on south towards the coast. This is the first of two significant descents on the 60km course, where you follow the ridge down a mostly wide track until Red Rocks. This track has some technicality to it, which will make it fun for those wanting to bomb the hill, just be prepared for a solid examination of your quads.
Once you reach the coastal track, you head east on the only section of the course that could actually be considered 'flat'. If you have the energy and are willing to give it a shove, you can can cover a lot of ground quickly here, provided no seals are blocking the path. Lumbering escarpments will tower over you as you make your way in and out of bays until you reach the Te Kopahou Visitor Centre just before Owhiro Bay, where you'll find the next aid station at around the 42km mark.
Owhiro Bay to Adelaide Road (via Tip Track)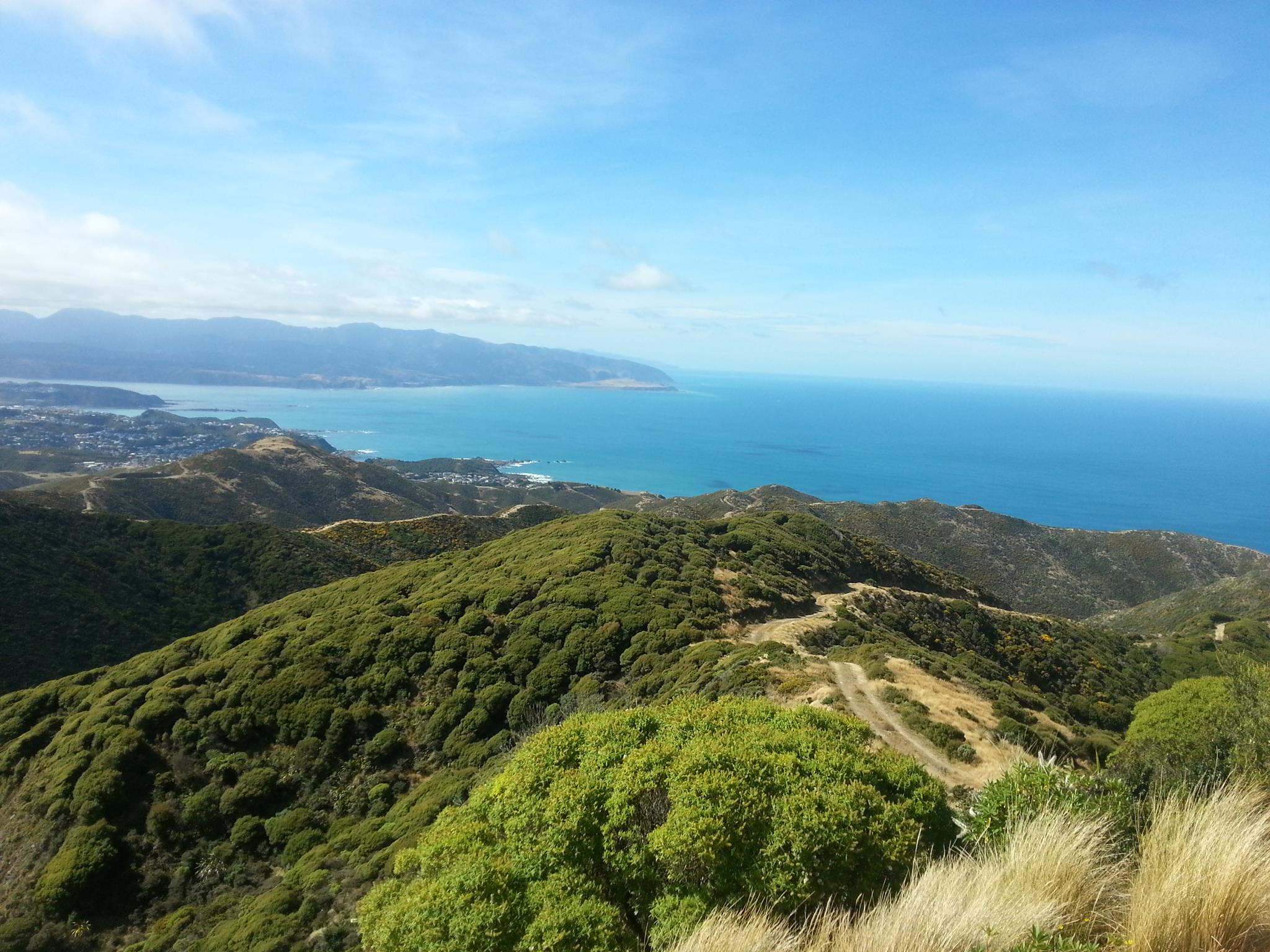 From Hawkins Hill towards Owhiro Bay Plant Runner - Own work, CC BY-SA 3.0
Ahhh, this section. Right, so if you thought things were pretty tame so far, then no doubt the out and back on Tip Track will absolutely change your mind.
After pounding the pavement again for a few k, you'll turn left onto an old dirt road, and head up. And up, and up, and continue up - on what is essentially Wellington's highest runnable climb that is close to the city. There is a small dip/flat section just over halfway up, but other than that, it's relentless. To make matters worse, those struggling to get themselves up the hill, have to put up with the joy of seeing the 42km entrants, or the 60km entrants who were ahead of them, run down past them most likely wearing grins that say 'glad I'm not you right now'.
So you get to the top, to a point you've actually run past before probably an hour ago, and if that doesn't make your existence seem pointless enough, you are then sent back down the same way you came up. Time to reacquaint yourself with those quads again. In fact, if you look at the elevation profile of this section, it's almost as if you can see it giving you the old middle finger.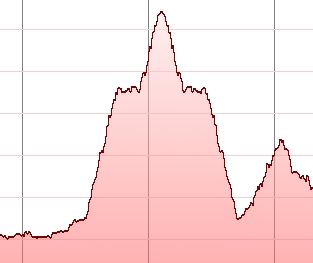 Say hello to your mother for me.
Not to be completely negative, it's worth pointing out that now you'll be well past the 2/3 mark of the course, and you'll have got the last major climb out of the way, so all the hurt and despair will be evened out somewhat by those tidbits. As you reach the road again, you do have to climb another hill through Tawatawa Reserve, but you can be assured in the fact that all climbs from now on are going to be tiny compared to that last one.
After you reach the top of Tawatawa, you descend some stairs, skip past a water tank, cut back down a track until you pop out onto a public golf course where I'm sure at least one persons perfect round will be ruined by some sweaty, groaning ultra marathon runner putting them off their putt. Just down from the golf course is the Adelaide Road crossing, where the final aid station is positioned.
Adelaide Road to Mt Victoria Lookout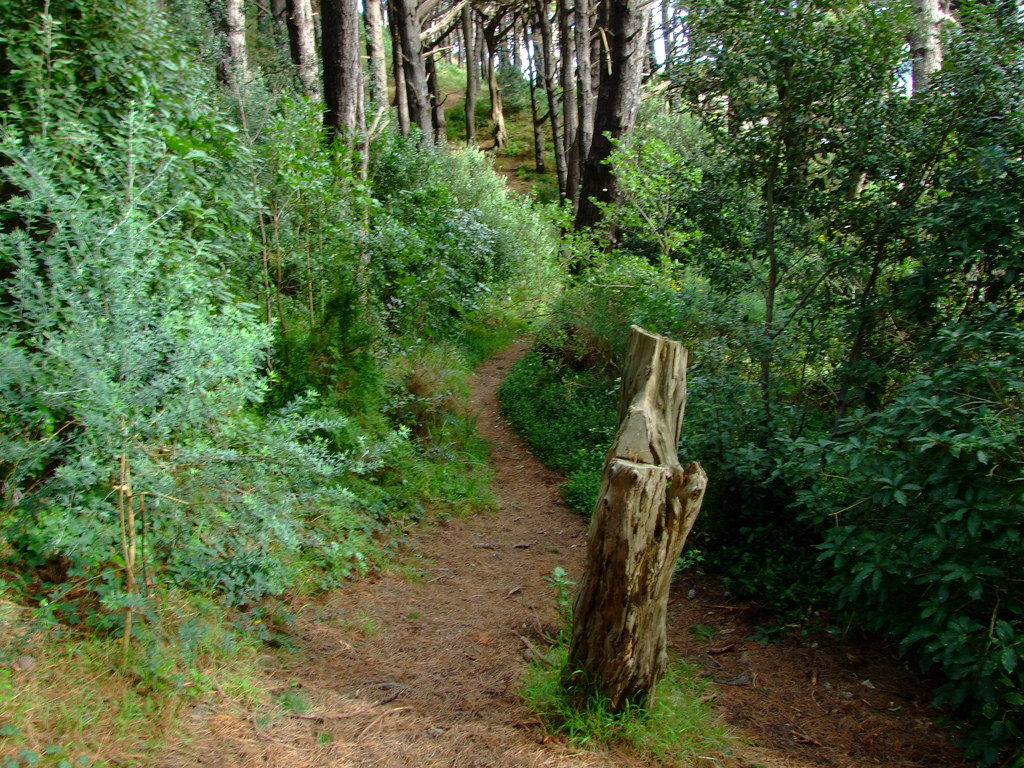 Stump on a winding forest walkway on Mt Victoria, Wellington. By Andre Goble - Own work, CC BY-SA 3.0
The home stretch.
This section is the most 'urban' of the course, but for the most part your encounters with roads will be crossings, as the event makes good use of Wellingtons superb Southern Walkway.
From the busy Adelaide Road (take care crossing) theres a decent pinch climbing up to Mt Albert. This is basically the second to last climb, with less than 5 miles to go, so if you have it in you, push it hard. Following some tracks down across Melrose field, you'll go around the edge of Wellington zoo, where at this point your incoherent grunts will be joined by those of the baboons, who will see you charging and be in no doubt that you're the better primate.
Heading north through a zig-zag of tracks and roads, you'll reach the boundary of HRH Mt Victoria, husband of Albert, who you just recently conquered. As you advance on a mixture of single track and wider general purpose walking tracks, you will be passing plenty of recreational users of the city's town belt, who will have no idea of the magnitude of the day you've had so far. Make sure you tell them how awesome you are.
Finally, you'll be just below the Mt Victoria summit, passing the catering truck that, combined with the last 20 meters of steep hill to climb, may tempt you to just give up there and then, but if you endure, as you have done all day, you'll be on top of Mt Victoria, and will have completed the first ever Wellington Urban Ultra Marathon - Whew! Or should I say, WHEWUU!
Look forward to seeing you all out there on the day.
Vital Statistics Download the GPX - Right Click - Save File As
Length: 60km - though my GPX says it's just shy of 63km.
Climb: Event states it as 2.5k climb, however by my reckoning, using the gpx above and the gpx report from this site, it will be just on or below 4k of climb.
It turns out it it was 3K.
Highest Elevation: Mt KauKau, which at the platform (not the summit) is 443 meters. You reach just below this elevation 4 more times.
Track Conditions: Approx 40% single track, 50% 4WD type dirt track, 10% footpath. A decent proportion is exposed to the elements, particularly in a southerly. On almost all of the course aside from about 6k, you'll be either descending or ascending.
For another course preview, check Run Wellington
Header Image: Wellington from Mt Kaukau - By Andrew Thompson - Own work, CC BY-SA 3.0